Frequency meter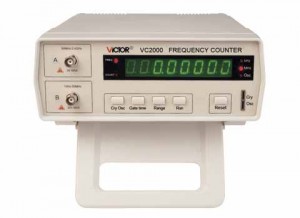 CHIPTRONIKS Distribute VC2000 ,the best frequency meter with Crystal checker functinality . For more information call 011-43464998
Product Model:VC2000
Product Name:Frequency Counter VC2000
Products:Frequency Counter
Detail:
VC2000  Frequency Counter
·It is a high-resolution multifunction intelligent frequency counter based on microprocessor.
· Frequency measurement, pulse counting, crystal measurement.
·4-step gate time, 5-range function select and 8-digit LED display.
·Working mode memorized, range and gate time can be set according to the requirement.
·Multifunctional, good quality and reasonable price.
Basic function

Frequency measurement

CH А: 50MHz~2.4GHz, Basic accuracy:±(1×10-5

+

3)

CH В: 10Hz~50MHz, Basic accuracy:±(1×10-5

+

3)

Crystal measurement

Crystal slot:3.5MHz~16MHz, Basic accuracy:±(4×10-6

+

1)

Total measurement

CH В: 10Hz~4MHz, Basic accuracy:±(4×10-6

+

1)

Measurement sensitivity

50mVrms

Input impedance

CH А 50МΩ CH В 1МΩ

Count range

1~108 10Hz/4MHz

Accuracy

±(2×10-5R

+

3D)

Crystal measurement range

3.5MHz~16MHz (keynote)

Gate time

0.1s/1s/5s/10s

Dimension

270×215 ×100mm

Weight

1.5kg

Power

AC 220V/110V 50Hz/60Hz
Didn't find any related posts :(