soldering station
We sell the World Finest Soldering Station iSolder-40 which is the most intelligent digitally controlled Soldering Station in the World.  For Sales Enquiry call +919971004998/ 011-47592046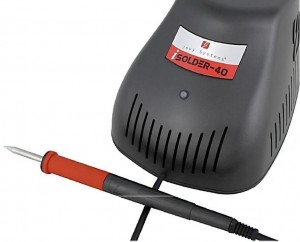 iSolder-40 : Perfect , Professional and quality soldering
Features
No overshooting
No temperature settings
No calibration
Auto sleep and auto shut-down
stable power level for variable temperature levels
Value added and cost effective tips
Designed for any operator,beginners and for experts as well.
The iSolder-40 is the most up to date technology in soldering invented by Jovy Systems.
The iControl senses the amount of heat and thermal load for the solder joint,and deliver precisely the power required to the tip for generating the heat energy.
The iSolder-40 is very convenient for both large and small business due to reasonable price and performance. iSolder-40 is the most safe soldering station,eliminates any possibility of PCB burning or component damage.
The iSolder-40 is fully automated with sophisticated iControl algorithms, so it doesn't require any user experience at all.
Didn't find any related posts :(